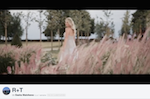 Given our job, it is no surprise that we fancy good rom-coms and each film received after a wedding is eye-candy for us (wow, a rom-com with people we love and who are looking even more gorgeous than usual !). Dasha Maloofeva has kindly allowed us share the trailer of a gorgeous destination wedding we planned this Summer for a super lovely couple coming from far far away (Australia and South Africa).
This film is showing well how important videography is for keeping lifetime memories of your big day. Dasha is managing to convey the intense emotion that everyone was feeling that day in a very different way a photographer could do it. Even the image of the bride walking through our garden flowers is immensely romantic. And the first dance + the choreography by the groom and his groomsmen will be remembered as the most epic dances ever. Of course hiring a good photographer is essential but we often observe that videography is seen as something not worth spending on while we see funds being depleted on things that are much less essential (if you need advice on where it is worth spending and where it is not wise to spend, just ask us, we have tons of examples).
If you are planning your destination wedding now, please make yourself a favor and book a good film-maker for your wedding. After years of experience, we can tell you that on top of great photography, a good video is the best present you can offer to yourself, to your loved ones and to the guests who could not make it to the wedding (including your future children !)
R+T from Dasha Malofeeva on Vimeo.
The bride had always dreamt of a fully French wedding and she trusted us to plan a custom event without having visited the venue. Sounds incredible but Tarryn and Rick had never travelled to France before their wedding. Actually it happens every year with busy couples from Australia and Americas who do not have time to fly over for a viewing but it always went perfectly fine as we are not used to disappoint anyone. All the couples actually tell us that the venue looks even better in real than on the pictures 😉
Their testimonial below is showing that they truly enjoyed their experience.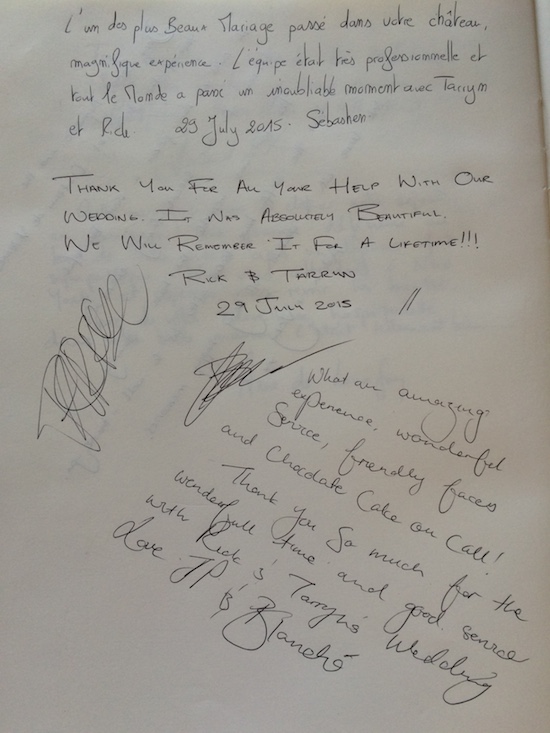 Congratulations to the vendor team who did a great job
* Video by Dasha Malofeeva (based in Bielorussia but can travel) : https://vimeo.com/user36424323
* Catering : Michelin star chefs of Kookin including a fabulous croquembouche coated with sugar lace made by Michelin star pastry chef Cécile Sagory
* Make up : Annette Thornton (even if the job was easy peasy with such a stunning bride, Annette is the best make up artist in France !!!)
* Hair : Christelle @ Bulles d'Hair (a 5 star hair stylist too)