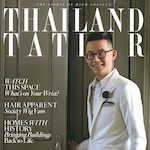 Today we are traveling to Thailand ! Our property was featured in the local edition of Tatler, the famous society magazine providing insights into the lives of the world's most glamorous and leading celebrities.
We already had a few Asian brides (from Japan, Malaysia, HK, India, etc) and maybe this article will help us to attract Thai brides. We would be very excited to learn more about wedding traditions from Asian countries !
We are also planning a trip to China to explore business opportunities so if you have contacts there (high end travel and wedding planning agencies), please share with us, thanks !
Photo : Alexandra Meurant