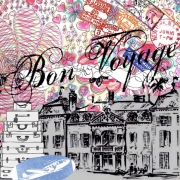 Anna is a very talented fashion stylist living between NYC, London and Sydney. Despite her young age, her beautiful range of accessories and clothings are already distributed in selective stores like Henri Bendel in NYC.
Besides being smart and super good looking, Anna is the most adorable bride you can think of and a dream for a wedding planner. Always enthusiastic with a witty sense of humour. Everything was organized by us from A to Z (e.g. shuttles from Plazza Athenee hotel in Paris, wine tour for guests to get to know each other around a glass of wine, full boarding with the finest food from Michelin star chefs…), all the guests said they spent 3 perfect days with the sun always shining and very warm temperatures.
Fortunately Anna has got a sister who also fell in love with Varennes and she is planning to marry here too so we are interviewing candidates as she also deserves a perfect groom !
We have two slideshows for this wedding : the first one with gorgeous photos by David Brenot and the second one with my modest contribution to the wedding memories !
Wedding photographer's gallery :
My own look on the wedding (not half as good as the professional photographer but hopefully it is adding a different and interesting perspective on the same event)
Anna chose the very talented floral stylist  Frederic Bertin. Without having met her once because she was way too busy, he managed to create a wonderful decor that reflected her joyful personality which is also  displayed on the beautiful stationery she designed herself. The flower garland at the chapel entrance took very long hours to set up but the look was fantastic. The Michelin star chefs of kookin served a very memorable duck "a l'orange" and Muriel from cakesinthecity designed fashion cupcakes for the brunch as well as meringues and chamallows for the midnight snacks.