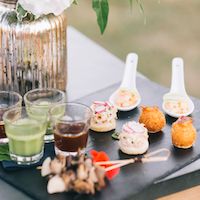 After a very busy season, we had a few weekends of food samplings and it was delightful to taste the new creations of our brilliant kitchen team led by our head chef Nathan (it is one of the perks of our job!).
Look at these amazing pictures: you can trust that the food is as good as it looks 🙂 We are selecting the best ingredients (some even coming straight from our organic garden) and everything is home made which makes a huge difference with venues or caterers who are using industrial flavors.
We also make sure to prepare special trays for the couple who often don't have time to go to the buffets. Attention to details is key in our job if we want to make sure that our guests are continuing to rave about the food which is served here, they often tell us it is the best wedding food they every had in their life!